---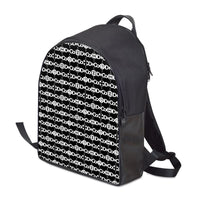 The unisex Busy Backpack is the perfect accessory, whether you're needing a sturdy bag for traveling or just a day-to-day style piece. This one suits every occasion. It's made from a combination of soft, Nappa leather and padded canvas for the ultimate comfort and strength. The fully waterproof lining protects against any water spills or pen leaks. The padded cushion layer sits in the back of the carrier, giving extra comfort to the wearer during longer journeys. The Busy Backpack has a few extra design features, such as a double zipper for easy access, a roomy interior and front pocket, and 2 shoulder straps for carrying support. You'll love this!
Designer Backpacks
Designer Backpacks
Nappa leather and padded canvas
Fits laptops up to 17 inches
Waterproof lining
13.4" x 15.7" x 5.1" (approx.)
Handmade to order
Care instructions
Surface wipe only. Clean gently by hand with mild soapy damp cloth.