---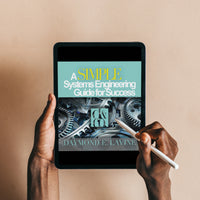 The search for success—oh, how daunting it often is. We all want it, but we all do not know how to attain it. Every day, we are bombarded with standards of success we believe apply to us. However, success is not a one-size-fit-all garment. Success is not something we can simply shop and wear. No, success is scalable, completely variable depending on the person pursuing it. Most importantly, success is something we must keenly focus on attaining in alignment with our own personal goals and genuine interests in life.
 The attainment of success is indeed a formidable task and a perilous journey. In fact, it most often seems like a moving target with each passing day. Thus, everyone can benefit from having a solid process in place for acquiring their desired level of success.
 A SIMPLE Systems Engineering Guide for Success urges you to pursue your success and become your personal best using a success model. It does not condone you mimicking the success of someone else or becoming someone other people think you should be. It further encourages you to do some soul searching before utilizing the solid methodology provided herein known as the Success System VSM.
 This book is written by Daymond E. Lavine to share his accumulated experience, expertise, and wisdom. It combines his educational and Systems Engineering knowledge with his outstanding creative skill and ingenuity. What has emerged is his Success System VSM, a methodology he teaches to others. This success model is thoroughly explained throughout this inspiring page-turner.
 As you read A SIMPLE Systems Engineering Guide for Success, follow along as Daymond takes you through the scenario of Janet. Janet seeks to launch an interior design business as a personal Concept of Success. Read about the techniques and activities she uses. Most importantly, learn how you can utilize Janet's scenario for success and Daymond's explanation of the Success System VSM to create success for yourself. Success is nothing more than a product of your hard work and determination. Isn't it time you use a solid process to build it?
---------------------
WHAT TO EXPECT AFTER ORDERING THIS EBOOK: 
After you purchase this product, you will receive an email with one-time download link to receive this ebook in PDF Format. If you experience any technical issues, email Daymond at daymond@daymondco.com.